7-116.
. Use a graph or a table to evaluate each of the following limits. Homework Help ✎
Substitute in x = 3 as it does not create division by 0.
Graph the function. What happens at x = 3?
Review the hint in part (b).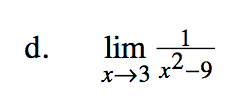 Are the right and left limits in parts (b) and (c) the same?