10-100.
This is Ann's tube. You can use the same method as Nate's tube to find the volume.
This is Nate's tube. The height of the tube is 11 inches. The circumference of the base is 14 inches. Use this information to help you find the area of the base. Remember that, for a circle, area = πr2 and circumference = 2πr.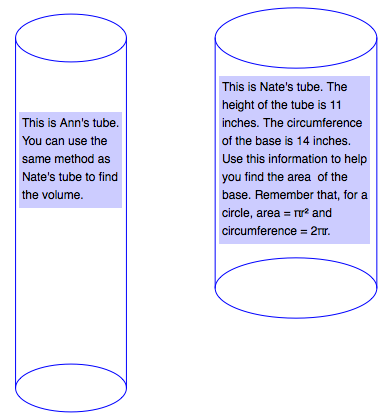 circumference = 14 = 2πr
radius = 2.23
area = πr2 = π(2.23)2 = 15.60
volume = (area of base) (height)
volume = (15.60)(11) = 171.6
Nate's tube has a volume of 171.6 cubic inches and it holds more than Ann's.
Remember to show your calculations and to figure out how much more popcorn Nate's tube holds.